Who is the course for ?

The course is aimed at practising electricians and electrical contractors and is intended to ensure that they are conversant with the format, content and application of BS 7671: 2015 amendment 3. The course is also suitable for others who may require a basic working knowledge of BS 7671

When will the 18th Edition of BS 7671 be published?
The publication date is on target for 1st July 2018.
The cover colour will be blue to replace the current yellow book.

What about my yellow copy of BS 7671:2008(2015); when does that expire?

Both the new 18th Edition (blue cover) and the old 17th Edition (yellow cover) will be current documents until January 2019. From January 2019 only the 18th Edition (blue cover) will be permitted when designing, erecting, and inspecting and testing electrical installations.

What will happen to 2382?


From 1st July 2018, we will launch a new complex - the 2382-18 for centres to register candidates against. This new qualification will be assessed by a 60 item multiple choice examination that is delivered onscreen via our e-volve system. The examination will have a 2-hour duration. This assessment will align fully to the new 18th Edition (Blue). The current qualification 2382-15 will be open for registration until 31st December 2018. Certification for 2383-15 will close from 31st March 2019. Will there be an assessment available to cover only the differences between the 17th and 18th edition? No, an agreement was made between all Awarding Organisations and the JIB that all examinations based on BS 7671 should assess that candidates are able to demonstrate understanding of all parts, not just changes between editions.
What are the entry requirements ?

There are no formal entry requirements, but candidates should be literate in the terminology used in an electrical engineering environment and have a basic knowledge of the technical aspects of electrical systems in domestic, commercial or industrial installations.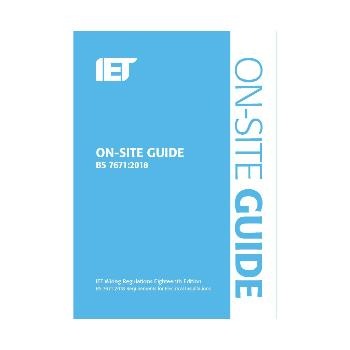 What will I be doing on the course ?

- Detailed examination of all parts of BS 7671;
- Selection and sizing of cables;
- Sizing of protective conductors;
- Using the IEE On-Site Guide;
- Preparation for City & Guilds 2382-18 examination.

How long is the course ?

The course duration is between 7 and 30 hours depending on your current status and the hours can be spread over days or evenings as required by the client - sessions consists of formal instruction and culminates in a 2 hour 60 question multiple choice online exam covering the underpinning knowledge relating to the content and application of BS 7671:2018 - 18th Edition. The exam is 'open book', meaning during the two hour exam you will be able to refer to the 18th edition regulations book.