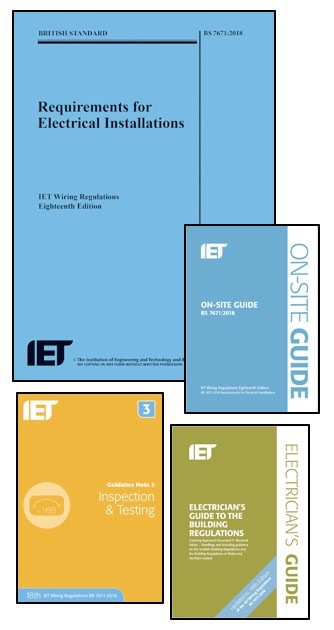 C&G 2391-52: Combined Initial Verification and Periodic Inspection and Testing. Intended for experienced electricians who have never gained formal qualifications in inspection and testing or who may wish to update and reaffirm their skills



C&G 2391-50: Initial Verification. Intended for learners who wish to verify new installations and perhaps never need to carry out Periodic Inspection and Testing.



C&G 2391-51: Periodic Inspection. Intended for learners who have previously gained qualifications in Initial Verification, perhaps through a recognised apprenticeship and wish to expand their skills to include reporting on the condition of existing electrical installations.


If you currently work in electrical testing, a Certificate in Inspection and Testing and Initial can help you update your skills to keep up with best practice in the area.The Level 3 Certificate covers: health and safety, inspecting electrical installations testing electrical installations.


Thde Level 3 Certificate in Inspection and Testing is a Vocationally Related Qualification (VRQ). To get a Vocationally Related Qualification (VRQ) Electrol Ltd will develop and enhance your existing skills through practical sessions, personal learning plans and a structured theoretical study program combined with a home study pack.

Exams and Assessments:

2391-052:Assessment strategy
2 hour, 60 questions Multiple-choice online-exam
Assessment conditions:
Open book exam/Invigilated exam conditions
Graing:
Pass/Fail

2391-502 Assessment Stratedgy
Practical Assessment Intial Verification
Practical assessemnt Periodic Inspection


Level 3 - It is aimed at practising electricians who have not carried out inspection and testing since qualifying or who require some update of training before going onto other City & Guilds qualifications.

The qualification is also suitable for those with limited experience of initial inspection and periodic inspection of electrical installations, such as those entering the industry from other engineering disciplines or who have been working in allied trades

How long will it take?

The guided learning hours for the Level 3 Certificate in Inspection and Testing is approximately 50 plus prepration time for exams and assessments. This time is based on candidates completeting a home study pack and tuition in the classroom.

What is progression route is there after I complete this course?

It allows candidates to progress into employment or to the following City & Guilds qualifications:

• Level 4 Award in the Design and Verification of Electrical Installations (2396)

• ILM management and leadership qualifications