2382 18th Edition Regulations:
C&G 2382-22 - NEXT COURSE DATES: Tuesday 21st November 2023
Tuesday 19th December 2023
Tuesday 16th January 2024


18th Edition Regulations - Amendment 2
Amendment 2 of BS 7671 was published on March 26th 2022: Amendment 2 (2022),
The City & Guilds 2382-22 exams will reflect only this edition of the regulations.
The course is aimed at practising electricians and electrical contractors and is intended to ensure that they are conversant with the format, content and application of BS 7671: 2018-22. The course is also suitable for others who may require a basic working knowledge of BS 7671-2018-22
From April 2022 only the 18th Edition (brown cover) will be permitted when designing, erecting, and inspecting and testing electrical installations

This qualification will be assessed by a 60 item multiple choice examination that is delivered onscreen via the City & Guilds e-volve system. The examination will have a 2-hour duration. This assessment will align fully to the new 18th Edition (Brown).
We are often asked if there will there be an assessment available to cover only the differences between the 18th Amd 1 and 18th edition Amd 2? the short answer is no, an agreement was made between all Awarding Organisations and the JIB that all examinations based on BS 7671 should assess that candidates are able to demonstrate understanding of all parts, not just changes between editions.
There are no formal entry requirements, but candidates should be literate in the terminology used in an electrical engineering environment and have a basic knowledge of the technical aspects of electrical systems in domestic, commercial or industrial installations.

On the course candidates will study:
- Detailed examination of all parts of BS 7671;

- Selection and sizing of cables;

- Sizing of protective conductors;

- Using the IEE On-Site Guide;

- Preparation for City & Guilds 2382-18 examination.

The course duration is between 7 and 30 hours depending on your current status - sessions consists of formal instruction and culminates in a 2 hour 60 question multiple choice online exam covering the underpinning knowledge relating to the content and application of BS 7671:2018 - 18th Edition. The exam is 'open book', meaning during the two-hour exam you will be able to refer to the 18th edition regulations book.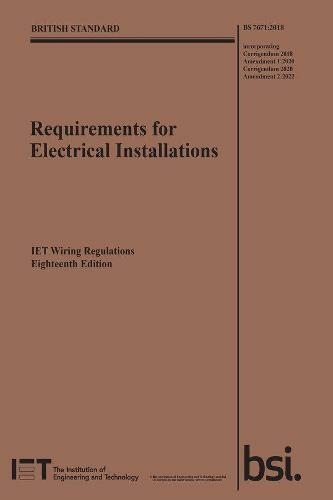 BS 7671-22.
Candidates will require a copy of the current edition of the regulations.
The new book is available from the IET 28th March 22

This course is classroom based and focuses on all parts of BS 7671:2018+A2:2022

The City & Guilds 2382-22 exam will be based on Amendment 2 of BS 7671..


A detailed overview of the course will be available soon.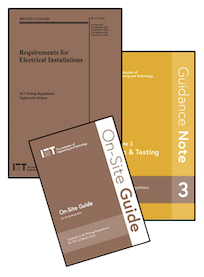 Other Documents:
When changes occur to BS 7671 there is of course a knock-on-affect and candidates should update all relevant associated publications to ensure the minimum requirements for all electrical installations are satisfied, for example:
On Site Guide

Guidance Note 3

Part P Guidance Notes
"Click to edit. Insert a customer recommendation, a client thank you note, or a quote you find inspirational to your business. Show visitors you are a reliable company, and add a little personality to your website."
Customer Name